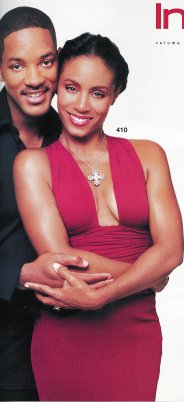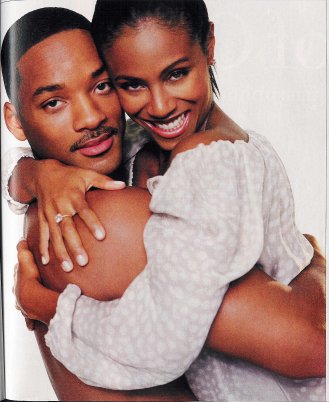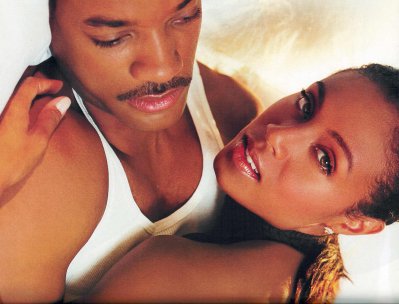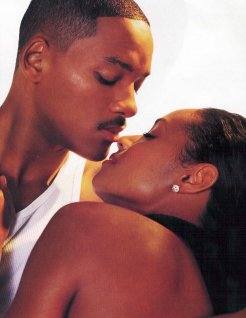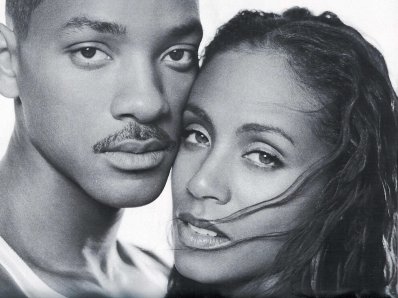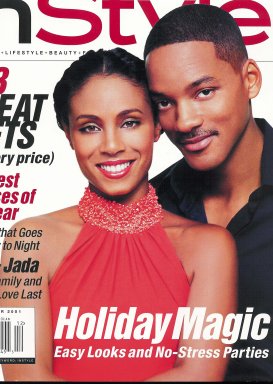 KNOCKOUTS

INTRODUCTION
This shot is for my love of you baby," says Will Smith, gold club in hand, looking over at his wife, Jada Pinkett Smith, who is quietly hitting her own balls out over the almost artificially green expanse of a country club near Los Angeles. They're both in sharp golf outfits: crisp knit shirts, trim pants, unscuffed shoes. To make sure she hears him, he repeats his declaration. "This is for how I feel about you, baby," says Will, his smile built on bravado. He looks out into the distance where the sloping green meet arid mountains, then pulls in his focus to set up his swing. Jada finally shoots a glance his way. The moment of truth arrives: Will swings ... and the ball shuttles indifferently down the range. "That ain't good brother," says Jada gently with a scornful laugh. "I didn't mean that one," says Will, hurriedly dismissing his first attempt. "This is the one," he says, swinging again. The second try is an improvement, but still not exactly worthy of her love. Will tries a third time. Bingo. He connects solidly with the little white ball, sending it soaring. "That's better," says Jada.

Everybody needs their strokes--even a crown prince of Hollywood who, at age 33, has already conquered the TV, music and film worlds. And though Pinkett Smith enjoys such playful sparring with her husband, she has a quiet intensity, a steely undergirding and a strong desire to see her man be the best he can be. Last year, for example, Jada was flat-out honest after watching her husband in the boxing ring as he began training for his turn as Muhammad Ali in director Michael Mann's new film, Ali. "I was like, 'Oh my god.' He was a-fumblin'. He had no coordination. I was scared. I called his manager, who is my manager too, and said, 'How is he gonna pull this together in a year?' I'm his worst critic."
"From that day forward she was banned from training," Will says.
"But he got it together," Jada continues. "It's absolutely amazing. I'm just so proud."
Will was drawn to what he calls the "complex simplicity" of Ali's life and to the steadfast spirituality of the fighter, a Muslim who refused to support the Vietnam war. "I was intrigued by the idea of a man believing in God and not being willing to break any of those rules," says Smith, who added more than 30 pounds of muscle to his 6-foot-2-inch frame for the role. He characterizes his work in the film and his best ever. "I know what people are about to see, and it'll be difficult to impossible to top it," he says, cracking another ball off to the far reaches of the driving range.
"He's always been a confident person," says Jada, 30. "He's always talking about how great he is." His fans won't argue with that. The Philadelphia-born Smith, whose father owned a refrigeration company, has been a huge success in everything he has tried. He broke out in his early 20's as half of the duo D.J. Jazzy Jeff and the Fresh Prince, winning the first-ever Grammy award for best rap performance in 1998 for the song "Parents Just Don't Understand." His rap persona helped him land a sitcom, The Fresh Prince of Bel-Air, which was a hit on NBC for six seasons. And his first three action films, Bad Boys, Independence Day and Men in Black, grossed more than $600 million combined. In 1997, when he released his first solo album, Big Willie Style, he scooped up to more Grammys.
So a little boasting is allowed, especially when there's such a big heart behind it all. And nowhere is that reflected more than in his four-year marriage to Jada, who has an impressive résumé of her own, playing fiery women in such movies as Menace II Society, A Low Down Dirty Shame and Bamboozled. At Will's urging she has also taken roles in such blockbuster fare as The Nutty Professor and the upcoming Matrix sequels. "I don't do a whole lot of commercial movies. I enjoy working with black folks on black stories," says Jada. Will is quick to offer advice some box-office advice: "You've got to do movies white folks are gonna see."
As the two finish golfing Will stops to give his wife a hug, his big frame towering over her compact 5-foot-tall body. "Observing the honesty and truth in Will and Jada's relationship keeps me inspired," says friend Darrel Foster, the fitness consultant who trained Will for Ali. "One day I was just so pleased with being around the warmth in their home environment, I went home and asked my girl to marry me."
Jada--who grew up in Baltimore, the daughter of a nurse and a contractor--began dating Will after two friends, actors Tisha Campbell-Martin and Duane Martin, set them up. Will's first marriage, to an actress Sheree Zampino, was ending, and Jada was apparently reluctant. "She was like, 'The Fresh Prince?'" recalls Duane. "She just thought he was goofy. I said, 'Yeah, but he knows who he is, and he's not gonna take all your junk. He's gonna go tit for tat with you.' The next thing you know, there were inseparable."
Even their thought patterns hang together, as back at the clubhouse, they dive into a breakfast of pancakes (him) and egg-white omelette (her).
Jada: "You don't go to sleep with ..." "... negative energy," finishes Will on the subject of making a relationship work.
"That's definitely rule number one," Jada decrees. "It's about raw, brutal honesty."
"Hard-core honesty--crack that head wide open," chimes in Will, looking down to check his pager. There's a message from director Jonathon Demme, but Will ignores it for the time being. "We decided that the truth leaves a nice, clean, easily reparable cut, whereas a lit leaves a jagged wound. It doesn't easily heal."
Early on, Jada helped heal a rift between Will and his first wife, with whom he has a son, Trey, now 9. "I wasn't emotionally in a space to do that," says Will. "Jada basically stepped in and worked it out with Sheree, which helped me be the best father I could be for Trey." Three years ago he dedicated his hit song "Just The Two to Us" to Trey and recently wrote a heartfelt children's book of the same name. The result of Jada's persistence is a proudly nontraditional family. In fact, Sheree comes to every holiday get-together. "She's in," says Jada as she reaches over to massage Will's shoulder. "I talk to her every day. Trey shouldn't have the burden of deciding to be with one parent or the other." Will and Jada, who live not far from the club, now have two children of their own--Jaden, 3, and Willow, 1--who are being raised with Trey, with no distinction between full and half siblings. "Our kids are brothers and sisters," says Jada. Adds Will: "That's how we roll, as one family, and that's Jada's design."
Will and Jada are also open about the fact that being married doesn't mean you stop noticing others. They've even turned it into sort of a game. Jada once gave her husband a birthday cake featuring the likenesses of three of his biggest crushes, Jennifer Lopez, Salma Hayek and Scary Spice. The cake read "Now you can have a piece." Will reveals that his most recent crush was on Beyoncé Knowles, lead singer of Destiny's Child. "I get a new chick on the side every six months or so," he says with a wink.
Jada: "You don't have anybody now."
Will: "I just broke up with Beyoncé"
Jada: "Yeah that was a hard breakup."
Will: "She was too young," he says.
The two are now laughing so hard, they may break something. "I mean, what are we gonna do?" says Jada, catching her breath. "The real deal is, I'm not the only attractive women in the world." After admitting to her own recent infatuations (Oscar De La Hoya and the Rock), she adds, "My husband just has a true appreciation of women."
Will leans across the table to pinch Jada's cheek. "We're both single now," he says.
"Yeah, we're single--an unfortunate situation," says Jada, rolling with the joke.
"Do you know, we're probably both single right now," continues Will, his tone becoming more earnest, "because we're really inspired by each other?"
Jada agrees: "The last couple of months we've really been focusing on each other." With typical swagger, Will declares that his rigorous training on Ali must have something to do with it. At his peak he was bench-pressing 355 pounds and pushing more than 1,000 pounds on the leg press. "I've been in such great shape he says ..." he says.
"You don't have to go there, Will," warns Jada. He glances at his pager again. This time it's Eddie Murphy, but Will turns right back to his wife. "People need to know--I'm a machine," he persists.
"You are so bad," says Jada, blushing. "He is a straight nut."
But doing Ali did have a more serious effect on Will: a spiritual deepening he experienced while shooting in Africa. "Jada is very that way--she goes on impulses and energy. But Will has always been more cerebral," says Duane Martin. "He'll think something out from every angle." But while traveling in South Africa and Mozambique for Ali, Will had a "classic epiphany," he says. "I felt like God lived there--like God visits everywhere else but he lives in Africa." When he came home Jada noticed the change. "I was like, 'Yeah!' I knew this [part of him] was always there," she says.
Will is now looking for a house to buy in South Africa. "I want to spend some time there," says Smith, who was overcome by the children he saw and their determination to learn despite meager resources. "I want to assist in re-creating that in America." Through the Will and Jada Smith Family Foundation, the couple hope to begin improving school (not yet determined) in Philadelphia. "Start with one school and try to create the vibe," says Will, sounding as if his ultimate aim is far broader.
"I think acting," he says before the two take off, "is just a pit stop on the road to my true calling." A lofty, if cryptic, pronouncement it may be, but you get the feeling Will Smith isn't just talking. And Jada isn't trolling her eyes.